I was watching the Nickelodeon Kids' Choice Awards 2005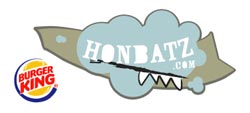 on Saturday night, and during a commercial break a Burger King spot played several times that I'm dead certain was produced with Flash. It was a promo created exclusively for the Kids' Choice Awards, as it parodies a voting scenario, but instead of pop stars and best actors nominees, we were introduced to The Honbatz. I don't frequent the fine establishment known as Burger King, so I can't say for sure if this is a new promotion for them, but I'd venture to say that this is the first time The Honbatz have appeared on TV. And I'm going to come out and say that I love these little guys. They're well designed (if a bit derivative of the whole Ugly Doll craze), well animated, and they're not half as saccharine and do-goody as the McDonald's mascots.
Head on over to The Honbatz site,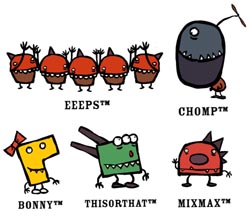 and click around. There's a good deal of animation on the site, and if you click on the 'Vote' icon in the upper left corner, you can see the spot that aired last night during the KCAs. If you drill down into the 'Who's Who' section, you'll be treated to 5 different shorts. They're all fairly tight, and timed well.
For the life of me – I can't figure out whose behind The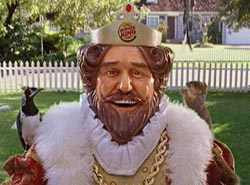 Honbatz design and animation. I pride myself on being able to complete nearly any type of information search on the web, but I'm stumped. I'm thinking the answer is Crispin Porter + Bogusky, the agency responsible for the new wave of peculiar Burger King live action commercials. My particular favorite is 'Wake Up With the King,' (click on video link below the photo) a creepy take on a fast food breakfast morning. CP+B was also behind the 'Subservient Chicken' website. Very Clever.
The CP+B website is full of Burger King work they've completed, but no animation, so I'm guessing they probably outsourced to an animation house. A few message boards and blogs mentioned that The Honbatz appear on product packaging, and the BK website features a few cameos, so it's safe to say we'll be seeing more of these little burger-loving creatures. Please post below if you figure out who animated these pieces.
***UPDATE #1***
Not entirely sure, but I think Minneapolis-based Boing is responsible for the Honbatz. They're an off-shoot of Campbell Mithun, the relatively large advertising and marketing company. I still think they outsourced to an animation house, so I'll keep digging…
***UPDATE #2***
I found a hidden page that I'm guessing is an earlier version of the site. A fairly funny reveal.
***UPDATE #3***
My search for the animator behind the Honbatz TV spots is finally over. And I wish I could say I sleuthed it out – but, in the end, I stumbled on the answer. The animator is Monkmus, the artist behind Kid Koala's 'Basin Street Blues' video. I know Monkmus is an After Effects fan, so I can no longer say with certainty that these spots were animated in Flash, but I'd guess they are. Check out other work by Monkmus over at his Kachew director page.