"There's absolutely nothing funny about a quadriplegic in a wheelchair.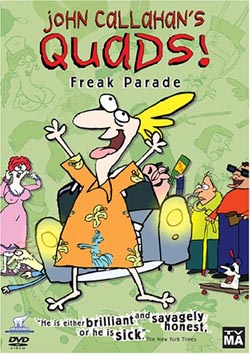 Unless, of course, that person is John Callahan." That's what greets visitors at callahanonline.com, and everything you'll see beyond that is equally as insensitive – and bitingly funny. It's the homepage of John Callahan, the author of 10 books, including six cartoon collections, an autobiography and a children's book, 'The King of Things and the Cranberry Clown.'. And as you may have surmised from the opening quote, Callahan is also a quadriplegic, the result of a drunken car accident. His 'things we think but would never say' style of humor inspires buckets of hate mail, and gobs of praise. In fact, his website is littered in compliments from celebrities including Robin Williams, the actor/comedian/host who is attached to star in a feature version of Callahan's autobiography, directed by Gus Van Sant.
Callahan has also spawned two animated series: 'Pelswick,' currently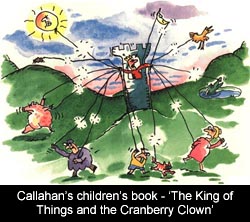 airs on Nickelodeon and 'QUADS!,' a Flash-animated series which was released on DVD earlier this week. The show is described as 'the story of Reilly O'Reilly, a foul mouthed drunk who gets run over by a millionaire and rendered a quadriplegic.' It was co-produced by Nelvana and Media World Features, and a total of 26 episodes have been created so far. The series website offers some insight into the 'QUADS!' production pipeline:
One of the key benefits of animating the series on computer rather than paper was the fact that the series partners – Nelvana Ltd in Canada and Media World Features in Australia – we were able to work from a central website. Animators in both countries worked with elements stored on a designated database, and individual scenes were instantaneously by both the Australian and Canadian Directors.
You can see clips of the show here, the DVD, 'Quads Vol 1:Freak Parade,' is available at Amazon.com, and Callahan's comic strip can be seen in over 50 publications including the San Francisco Chronicle, The New York Daily News, The London Observer, The Los Angeles Times and The Chicago Tribune.