Cold Hard Council, Question #2

We're back with the second edition of Cold Hard Council. The first focused on Flash's reputation in the industry and today, we're asking…
Have you or your studio made the move to Flash 8?
We use 7.2, but not by any choice of mine. With it's new undo function it's probably my most unliked version of the bunch. For my projects I use 4. It feels the most comfortable and animator friendly to me.
–Mike Geiger, Animation Director, 'Yam Roll'
We have not. We usually wait until the software has had time to flood the market and all of the kinks get worked out. I am looking forward to having it in our studio.

–Craig Hartin – Animation Supervisor, Radical Axis, 'Squidbillies'
Yes we have. I initially played around with the Flash 8 demo and found it lackluster. Feeling disappointed that after all the feelers that were put out into the industry by Macromedia to get feedback from artists and animators that our suggestions were completely ignored. Having now worked in Flash 8 for several months, I still feel the same way, but have grown to enjoy some of the new features as I've appled them into our projects. For example all the layer blending modes make for some neato "photoshop-esque" backgrounds as you can see a music video for Microsoft, produced by Tony Grillo of Flinch Studio and Fatkat Animation Studios.
–Gene Fowler, King of the Litter Box, Fatkat Animation Studios
We have moved to Flash 8. It's a definite improvement from MX2004 and there are a few more artist friendly features. Video capabilties have gotten way better and I'm already looking forward to Flash 9!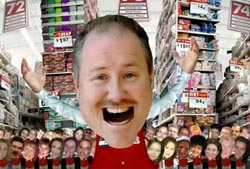 –Evan Spiridellis, Head Art Guy, JibJab Media Inc.
No, I use Flash MX.
–Matt Clark, Founder, Manbaby Studios
Yes and it was a big dissapointment.
–Jorge Gutierrez, Creator, 'El Tigre' (Nickelodeon 2007)
We have not made the jump to Flash 8. A couple of the guys have downloaded the trials and we have seen little bugs that resemble all early releases of Flash. For example – when bringing in artwork from Illustrator, some fills will fall out, and drops certain custom brush strokes. In addition, some of our projects require collaboration with freelance artists or occasionally overseas studios. We must be sure that everybody we collaborate with is able to work with us without losing a beat due to software incompatibility.
–Brendan Burch & Dave Vamos, Founders, Six Point Harness Studios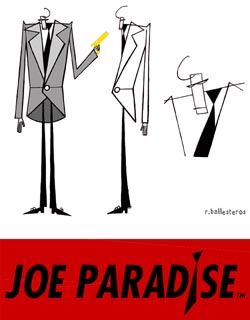 We're still hanging on to Flash MX like fools. Creatures of habit, I guess. We sadly have our unopened boxes of Flash 8 collecting dust in our supply bin.
–Roque Ballesteros, Founder, Ghostbot
Yes, we made the move. As we find ourselves getting into a lot of emerging digital media, Flash has become a very malleable tool. I think it's crucial to stay current with the program. Skipping versions is like cramming for a test. You don't want to be working on a deadline and all of a sudden learning new tools.
–Sandro Corsaro, Creative Director, Crest Digital
–Co-Author, Hollywood 2D Digital Animation