One Man, One Movie, 112,000 Drawings
In a way, William Shakespeare's 'Romeo and Juliet' is about going it alone.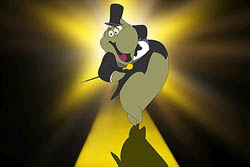 As most of us know, the story follows two star-crossed lovers who decide to follow their passion, despite having no support from the embattled establishment (their families). This is also Phil Nibbelink's tale – one of a ex-Disney man, who follows his dream of making animated feature films. In early 2003, with no help from the studio system, he summoned up his strength, chose a software and set off to make his vision come alive.
The result of Phil's work, a 4 1/2 year journey, is a 77-minute Flash-animated feature film – 'Romeo & Juliet: Sealed With A Kiss.' He drew the entire feature himself, all 112,000 frames of it, on a Wacom tablet, right into Flash. But he didn't stop drawing there – last weekend he sat in the lobbies of two cinemas and drew Romeo & Juliet sketches for 600 children. And now, as his 5-year journey comes to a close, Phil will watch his feature film receive a theatrical release, beginning on October 27th throughout the Los Angeles area. It's a remarkable story of individual achievement, and one that I know will have a better ending than Shakespeare's classic version.
Have a look at the trailer, and then below Phil answers a few questions for CHF.
AARON SIMPSON: Was 'Romeo & Juliet' your sole project through these last 5 years?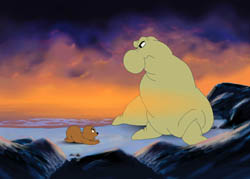 PHIL: 'Romeo & Juliet: Sealed With A Kiss' was the only thing I've worked on for the last 5 years. I worked around the clock 24/7 trying to finish before my savings ran out. But I have 4 small children who needed to be played with so I used them as my test audience and we'd have daily focus groups to discuss story points and whether or not gags were working.
AARON: At any point during the production, did the end seem out of reach?
PHIL: In order to reach my goal, I had to make 100 drawings, 5 seconds of film or complete 2 shots a day. As long as I hit one of those marks everyday I knew I was on schedule. And I wouldn't go to bed until I had.
AARON: In the beginning, what was the common reaction when you explained what you were setting out to do?
PHIL: Well, everybody thought that I was a 'mad man!' They probably still do. But I worked for so long in the big studio environment that I just got sick and tired of the merry-go-round. So much money and time is wasted going in circles and having endless meetings and making useless changes. I kept saying to myself, "this would go faster if I just did it myself." And it did – I proved it!
AARON: Did you develop any repetitive motion disorders on your way to completing 112,000 drawings?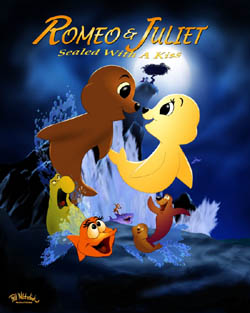 PHIL: I had to wrap a kneaded erasure around the Wacom stylus to prevent callouses forming on my fingers. When we had to go somewhere, my wife drove and I did ink and paint in the car on a laptop with a graphics tablet. That bought me more time and relieved any repetitive motion disorder.
AARON: Was there much edited out in this final cut?
PHIL: No. I had a real clear vision of the movie. Working alone allowed me the luxury of starting at the beginning of the film and animating straight ahead. I could watch the movie from the start right up to where I just finished and it was very clear then what had to be animated next.
AARON: Had you worked with Flash prior to 'Romeo & Juliet?'
PHIL: I hadn't worked with Flash before. Prior to 'Romeo & Juliet: Sealed With A Kiss,' I animated two movies on my own – 'Puss in Boots' and 'Lief Ericson: The Boy Who Discovered America.' Those films were animated on an Amiga using Deluxe paint at video resolution. I thought if I could get my work on 35mm I could reach a wider audience. So I explored a lot of options. I concluded that drawing on paper would add the extra steps of inking and painting or scanning. As a one-man-band, I had to look for ways to cut steps out of the process. I looked at all the animation software and concluded that 2K files don't play back in real time on small cheap computers. So I had to go vector.
I bought a film recorder from Upgrade Technologies because I figured it was cheaper to shoot it myself than pay a service. I shot a 2K test at 2048x1234x24bit BMP's with Flash, and nervously projected it up on the big screen. I was blown away with the perfect line quality, no jaggies, no rastering, no banding in the gradients – just perfect flat colors and sub-pixel antialiasing in the slow camera moves. OK, maybe the super slow rotations staggered a bit, but that was something I could see happen in real-time on the computer and I could easily correct it. So Flash 4 was it and I hit the ground running and never looked back.
AARON: Is that the version you used throughout the production?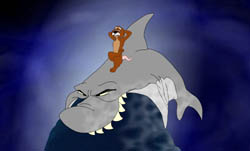 PHIL: I used Flash 4 the whole production.
AARON: Did you rely on much re-use in your Flash scenes?
PHIL: When I tried to migrate to Flash 5 it created forward-compatibility problems. Being a one-man-band, I have to cut a lot of corners. And re-using animation is a huge time saver. So an animation created in Flash 5 couldn't be opened in Flash 4 without a fight. Yes, there are cut and paste work arounds using Flash 4 and Flash 5 launched at the same time but that created RAM issues and crashes. So screw it! I just stuck with Flash 4. And besides, I couldn't afford the upgrades and they really weren't adding more art tools.
AARON: What feature is most lacking in Flash that would have helped your production?
PHIL: Defocusing, invertible masks, and that irritating pop from bitmap line to vector line would have helped.
AARON: What type of scene did you turn to Moho for?
PHIL: The slowest thing in production was inbetweening. Moho, now called Anime 4, allows you to take an Illustrator file from Flash and rig it with bones to create very organic squash and stretch movement. This was perfect for the "over-the-shoulder" or the "listening" characters, or keeping crowd scene characters alive. Then I could export a SWF vector animation that imports into Flash. With experience I found I could create hybrid animation. I would hand-animate a character in Flash moving wildly into a pose and then animate the moving hold with Moho. With very little effort I could make seamless transitions from one to the other and get through the shot a lot faster.
When it came time to sell 'Romeo & Juliet,' I was told by distributors that there "wasn't enough 3D in the movie" and that "2D is dead." So I'm hoping to prove that there is still a family audience out there that loves fully-animated, hand-drawn films.
Read more from Phil in the Cold Hard Flash message boards.