Coconut Fred's Fruit Salad Island Premiere
Some of you know that when I'm not digging around the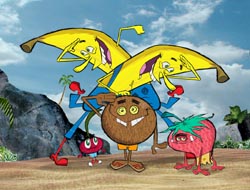 web for Flash-animation related news, I'm hard at work producing animation. And for the last year or so, I've been producing 'Coconut Fred's Fruit Salad Island,' which begins airing in the US tomorrow morning on Kids'WB! at 9:30am (EST). Along with my co-producer Marge Dean, Supervising Director Matt Danner, and Story Editor Ray DeLaurentis, we've pulled together a series we're all very proud of.

The show is produced almost entirely in Flash, and Matt Danner (character designer and director on 'Xiaolin Showdown'), who designed the majority of the main characters, created a unique look that we couldn't have achieved if we produced it traditionally. To compliment Matt's character designs, we designed intricate vector textures for all of the characters, giving a full, almost photographic, look to the show. And the world of Fruit Salad Island was also realized with a fresh look. Working with Photoshop, we used a library of photos to create a collage aesthetic that almost looks and feels 3D. We think it really jumps off the screen and the bright, tropical color palette is perfect for Coconut Fred's world.
Throughout much of our pre-production, Matt was busy with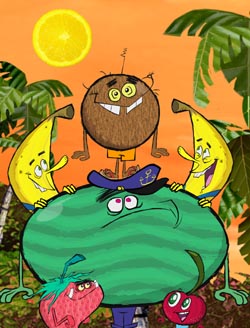 his role as a Supervising Director, so he relied on the amazing skills of his design team – namely Chris Battle ('Powerpuff Girls,' 'Samurai Jack' and 'Dexter's Lab') and Mindy Allen (or as she's known to some Miss Mindy). They built out the rest of characters in Coconut Fred's world, and created all of the unique variations of the characters that you'll see throughout the first 13 episodes. Pay particular attention to the eyes and mouths of the characters. As many of you know, animating in Flash allows the production team to 're-use' many drawings, and this means the design team can spend a great deal of time crafting elaborate, intricate mouths and eyes that can be used repeatedly throughout the production. You can also see this on display in shows like 'Foster's Home for Imaginary Friends' on Cartoon Network.
As the premiere nears, I would like to pass on a few more acknowledgements and thanks. 'Coconut Fred's Fruit Salad Island' was created by Don Oriolo and Sammy Oriti. The show was overseen at Warner Bros. Animation by Kim Christianson, Christopher Keenan and Stan Ruiz, who have been with the project from the beginning. From the start, they had a vision of what the show would become, and on top of creatively guiding the development of the show, they also helped build a tremendous team that would carry out that vision. I would also like to thank our Associate Producer Kathy Page and our Production Manager Eric Waldman, who have run an unbelievably smooth production, and have granted the artists great latitude without disrupting the schedule. And the voice actors – such amazing talent, and in particular, Rob Paulson, who plays Coconut Fred, and Michael Donovan, who not only plays Mr. Greenrind, but is also one of our two voice directors.
And lastly, I would like to thank both our Executive Producer, Sander Schwartz and the Kids'WB! team, Michael Diaz, Dana Cluverius and Betsy McGowan, who have all been a pleasure to work with throughout the production.
So, starting tomorrow, tune in to Kids'WB! Saturday mornings at 9:30am (EST) to watch 'Coconut Fred's Fruit Salad Island.' I hope you enjoy it!