Winfrey Making Fiends For Nick TV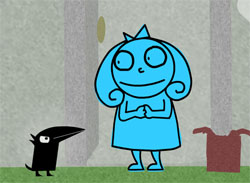 No matter which TV studio you talk to these days, the new-media plan is fairly consistent: "we're launching shows on our web platform in hopes of identifying which ones are ripe for TV development." This model isn't new, but it's finally beginning to bear fruit. Some shows are tested by networks on the web first, while others find their own legs independently and then the networks come calling.
Now it's Amy Winfrey's turn. She's been hard at work on her independent, Flash-animated series Making Fiends since 2003. The series centers on two characters who couldn't be more opposite. Vendetta is sinister, and possessed with the power to create other evil beings – or fiends. Charlotte is as sweet as can be, and never sees Vendetta's evil tactics as ill will, and typically considers her a friend. This dynamic between the two lead characters is what gives the show such creative range and humor.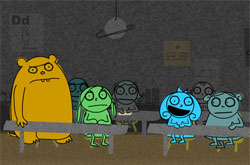 And now, with 20 episodes in the bank, Winfrey has some exciting news to crow about. Making Fiends is not only jumping to TV, but it's going all the way to the top – Nickelodeon, the cable network with the top 10 shows for children 2 to 11, according to the New York Times.
Winfrey shared this with me in a recent exchange, "I think fans of the web series are going to be very pleased with the show. I'll be the executive producer AND the voice of Charlotte!"
It's a smart bet for Nick, who now know exactly how the audience responds to the characters and storylines. Winfrey even hosted a Making Fiends Art Contest last year, and she watched over 250 entries pour in from fans ages 4 to 28. Plus, the Nick brass surely riffled through the demographics of the site's visitors, so there shouldn't be any surprises. Then, of course, there's Winfrey herself, who carries quite a nice, little pedigree.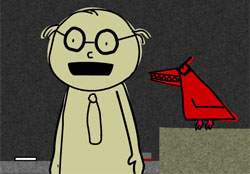 Versed in both 3D and 2D animation, she won a silver medal in the Student Academy Awards in 2000, and went on to animate for a little show called South Park. So with all of the typical new series question marks removed, you might wonder why all cable and network shows aren't "brewed" this way. Well consider the fact that Amy's been tirelessly working on her show for 4 years. Patience of that magnitude is hard to come by at almost any studio.
Amy recently shared some time with Cold Hard Flash to unravel exactly how this all came to be.
AARON SIMPSON: How did your relationship with Nickelodeon begin?
AMY WINFREY: A Nickelodeon employee had a daughter that was a fan of Making Fiends. He showed my site around at work and the Nickelodeon folks contacted me to see if I might be interested in bringing Making Fiends to television.
AARON: Can you tell us about the upcoming Nickelodeon series?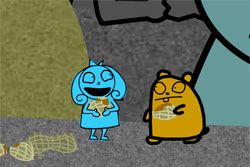 AMY: It will be super fiendy! I've expanded the Making Fiends universe to include some new characters (many of them fiends) and I've added a whole fiend filled town for Vendetta to terrorize. It has been a lot of fun coming up with new stories – especially since I know that I will not have to animate everything on my own.
AARON: Are you looking forward to having some help on the productions? That's gotta be a ton of work!
AMY: Yes! Yes! Yes! I've greatly enjoyed making my own films, but having more people help will allow me to focus on the things I like best: writing good stories and songs, designing fiendier fiends and working on voices.
AARON: How did you learn animation?

AMY: I took an animation class on a whim while I was an undergraduate English major at UCLA. I made a fifteen second film. It was a lot of work but fun. I made two more films while getting my English degree, and then applied to the UCLA MFA film program. While attending my first year at grad school, I also worked as an animator for South Park. Both school and work taught me a lot about animation.
AARON: Your UCLA film The Bad Plant landed you a Silver Medal at the 2000 Student Academy Awards. Tell us about that night.
AMY: The Academy planned a whole week of activities for Student Academy Award winners so I had already met all of the other award winners before that night. It was fun to see everyone receive their awards. The films were amazing. One student's film ended up also winning a (non-student) Academy Award. I tied for silver with a fellow student from UCLA, J.J. Martinez. Later, he returned to Spain and directed an animated television show and I ended up writing for the show. (note: Todd Polson, who won the Gold in 2000, is helping out with backgrounds for a new Flash-animated series coming to Nick next month – El Tigre – The Adventures of Manny Rivera)
AARON: Back at UCLA, you were working in 3D Studio Max, and to great results. Was it a conscious choice to switch over to 2D?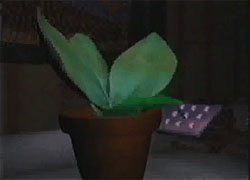 AMY: While making The Bad Plant I was also making a website for another class. My film might have won awards, but my silly little website had a much wider audience. I was getting e-mail from around the world. I decided to start making web cartoons. There was really no easy way to distribute 3D animation on the web at the time, so I returned to working in 2D.
AARON: What are the benefits of 2D over 3D?
AMY: 2D is faster, cheaper and much more fantastically flat.
AARON: How many South Park episodes did you work on?
AMY: I worked on the first fifteen episodes of South Park and South Park: Bigger Longer & Uncut.
AARON: How would you compare animating for South Park and animating on your own projects?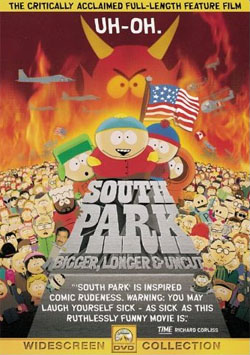 AMY: I use some of the techniques of replacement animation that I learned at South Park on my own projects. However, animating for myself is of course more fun AND I don't end up with delightful songs like Uncle F**KA stuck in my head for months before anybody has ever heard of them.
AARON: Do you have any projects lined up that might find you back to work in 3D?
AMY: It's possible that I will return to 3D at some point soon.
AARON: Was Flash being taught at UCLA while you attended?
AMY: At the time I attended, only a tiny bit was taught in my interactive animation class. I think that might have been Flash 1 or 2… it was still in its infancy. Now, UCLA teaches a great deal more of it. I actually taught an interactive class at UCLA last Fall.
AARON: How did your panel go this year at Comic-Con?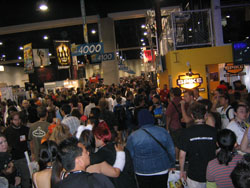 AMY: It was fun to see one of my shorts with an audience. Everyone laughed. Yay!
AARON: Did you get to watch any other panels while you were at the 'Con?
AMY: No. But I did manage to see about twenty Princess Leias.
AARON: You teamed up with Doug Liman's Nibblebox back during the original dotcom upswing. Was it frustrating to watch the subsequent merger with Hypnotic.com and its eventual eventual collapse?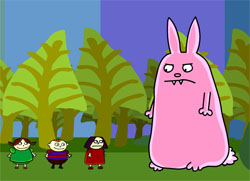 AMY: This was a surprising turn of events. I originally planned to make ten episodes of Big Bunny, but after the merger Hypnotic wanted to stop production after episode six. Hypnotic eventually agreed to allow me to make one final episode to wrap the series up. After this happened, I decided to make a new web series that I would try to keep independent for as long as possible.
AARON: How would say the current market for online animation compares to 2000?
AMY: The market has definitely changed. Now I get contacted by people wanting to put my shorts on cell phones and iPods instead of on entertainment websites.
AARON: How has your animation production method changed since 2000?
AMY: I try to think up new ideas to speed up production all the time. I am definitely a faster and more efficient Flash animator now.
AARON: How big is your production team?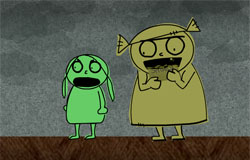 AMY: When I first started making web cartoons I did all the drawing and animation on my own. Now, I occasionally have two or three people helping me with the animation. Most are former South Park animators and friends from UCLA. In addition, I often utilize the fine voice talents of Peter Merryman and Aglaia Mortcheva.
AARON: Do you create animatics for each episode in Flash?
AMY: No. I sometimes do some storyboards if I need to plan out a shot, but most of the time I just set things up and animate them without a full animatic.
AARON: How do you learn new Flash animation tricks?
AMY: I don't really… I hope I'm not missing anything!
AARON: Are you more like Vendetta or Charlotte?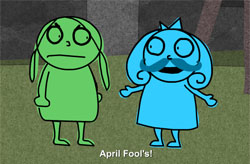 AMY: Hmmm. That's hard. I'm a lot like both.
AARON: How long would it typically take to produce an online episode of Making Fiends?
AMY: An episode would take about three weeks.
AARON: Have you licensed any of your characters out to manufacturers?
AMY: No.
AARON: Do you have any plans to resurrect Big Bunny anytime soon?
AMY: Maybe! I recently re-acquired the rights to Big Bunny. It might take a while though – I'm pretty busy with Nickelodeon right now.
AARON: Will you be able to sell Making Fiends merchandise off your website when the show launches?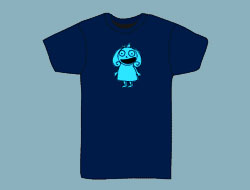 AMY: No. I will no longer be able to sell merchandise if a Making Fiends pilot goes in to production. However, I will continue to offer Big Bunny and MuffinFilms merchandise.
AARON: What's the average amount of visitors you get each day to makingfiends.com?
AMY: For all three of my sites together, I get over 20,000 hits per day.
AARON: What was the inspiration behind the Making Fiends Art Contest?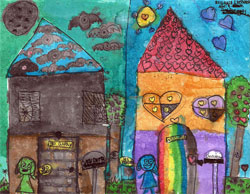 AMY: Fiend fans often sent me drawings and I loved it! I wanted to see more of their fiendish creations. I received entries from around the world, and the results are now posted on the Making Fiends website.
AARON: What type of advice do you have for animators currently studying the craft at school?
AMY: Don't over-think things. Some people spend so much time laboring over concepts, researching equipment and worrying about tiny details that they never actually end up completing their films. Start small and cheap. Audiences are forgiving – especially if you make them laugh!