Neptoon's Promo Washes Ashore
Back in February, you might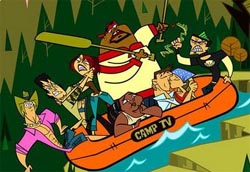 have spotted a post here about 'Camp TV,' a new Flash-animated series from the creators of '6teen.' The project has officially borne fruit, and they've also got a new title – 'Total Drama Island.'
The talented folks at Neptoon Studios, which is headed up by Todd Kauffman and Mark Thornton, recently posted a link to their animated promo.
With artists like Jared Deal and Joel Trussell on board, it's no wonder this thing looks and moves so well.
Next up – 26 episodes for Teletoon, due out in 2007. Production starts in June.