The Flash Animation 10 – Most Influential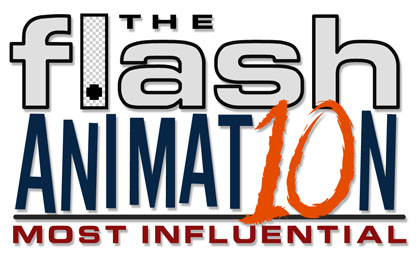 I'm just back from Austin, Texas, where I enjoyed two days of Flashforward. There I gave my presentation called 'Flash Animation: From One Computer to a Million Screens.' Late in the session, I unveiled a surprise – The Flash Animation 10 – The Top 10 Most Influential Online Flash Shorts.
Over the last month, I've culled together a list of 40 Flash-animated shorts worthy of inclusion, and then graded each one on a 1-10 scale in three categories – ARTISTIC MERIT, REACH and INFLUENCE. The top 10 then revealed themselves to me, and the list was born. I took it one further, and interviewed 7 of the 10 creators and their remarks are included here.
But what about the nominees? Well, they had to meet a certain set of criteria in order to make the list:
A majority of the short had to have been made using Flash
The short had to have premiered and received most of its acclaim on the web
It had to be linear (The interactive 'Frog in a Blender' by Joe Cartoon is out)
There are plenty of others that deserve 'honorable mention,' and I've listed those over in the message boards.
Now, let's take a closer look at the Flash Animation 10…
by Odd Todd (Todd Rosenberg)
Todd Rosenberg,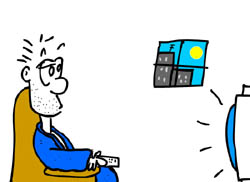 or Odd Todd as he's known on the web, was enjoying the initial dotcom run back in 2001, working at Atom Films in New York in Business Development. We all know what happened next. Out of work, Todd was struggling, and he quickly taught himself Flash and vented his frustrations in a short called 'Laid Off: A Day in the Life.' It was a viral internet sensation and Todd shortly found himself being interviewed by CNN and MSNBC, NPR (where he's a commentator) and Wired. Sure his short was funny, but the reason it spread so fast is that it said something about the times. A whole generation of sharp and artistic dotcommers had found their careers stalled. Odd Todd sang the ballad of the times, and it spawned a book deal, a Comedy Central pilot and another surprise that you'll read about in a minute…
AARON SIMPSON: What type of influence do you think your work had on the growing field of Flash animation?
ODD TODD: I'm not really sure really. I think maybe people feel more comfortable being more sloppy about their work. Originally the drawings in that cartoon were done just as 'placeholders' until I could figure out how to really animate. Then I was going to fill it in. But then I got lazy.
AARON: When did you first release 'Laid Off?'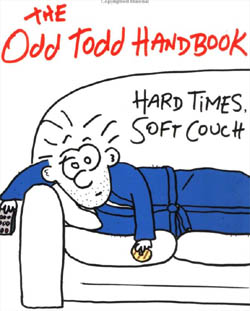 ODD TODD: It was originally posted in Nov 2001.
AARON: When did you first realize 'Laid Off' had hit a nerve with the public?
ODD TODD: Actually when I got an email from a friend of mine saying a friend of theirs had forwarded it to them not knowing that person was friends with me was the first real weirdness. If that makes sense. Then CNN did a piece on me a month later and then things got weird.
AARON: Any idea of how many times 'Laid Off' has been seen on the web?
ODD TODD: Not really sure. Millions?
AARON: What are you working on now?
ODD TODD: Right now I'm working on a cartoon for the site and a game or two. I do freelance work in Flash for ABC News. And recently Paramount Pictures bought a screenplay for Odd Todd (the movie).
by Bernard Derriman (music by TISM)
Bernard Derriman's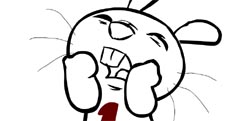 story starts where so many animators want to end up – on a feature film production. He was working as a character animator at Disney's (now defunct) Feature Animation studio, and animating personal projects on the side. In 1999, he and a friend set out to produce a short, and using traditional methods, they completed it – after 1,000 hours of production. This experience led Bernard to pick-up Flash, and after success animating a Chopper Read spoof, he spotted a music video contest 3 weeks before the submission deadline. Working at a breathless pace, he submitted his video that was animated against an existing track by the band TISM, and sure enough he won.
But that was just the beginning. The short quickly became viral, and before long, his version of 'Everyone Has Had More Sex Than Me,' had circled the globe countless times, and he wound up with a nomination at the allmighty Annecy International Animated Film Festival.
But Bernard's work is significant for another reason altogether. His hard-earned skills as a Disney feature animator brought a look to Flash that had rarely been seen at the time. His merger of subtle frame-by-frame techniques with symbol-based animation paved a path for the future of the medium. For more on Bernard and his work, have a look at his 2-part interview here on Cold Hard Flash.
AARON: When did you first release 'More Sex Than Me?'
BERNARD: I think it was August 2004.
AARON: When did you first realize 'More Sex Than Me' had hit a nerve with the public?
BERNARD: Soon after finishing it I submitted the clip into a small animation festival in Australia. It didn't win anything, and I kind of forgot about it. But someone must have stolen it from that festival website and put it up on their site, and then a month or so later it started popping up on websites everywhere, and the e-mails began flooding in.
AARON: How has the animation industry changed since the introduction of Flash?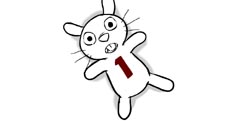 BERNARD: The biggest impact Flash has had on the industry is allowing individuals to easily produce animation. Before Flash it wasn't easy to produce an animated short as an individual – doing it traditionally was very costly and time consuming. Flash made it possible for everyone, with or without animation skills, to create their own animation – and do it fast and cheap.
AARON: What are you working on now?
BERNARD: I have a series in development with Cartoon Network – I'm working towards a pilot at the moment. I'm also doing a lot of freelance gigs, not to mention the latest Arj and Poopy episode from my online series. This one is going to introduce Bouncy the dog, the first new character since the series started.
the 1st Mr. Wong episode
by Pam Brady & Kyle McCulloch
The legacy of the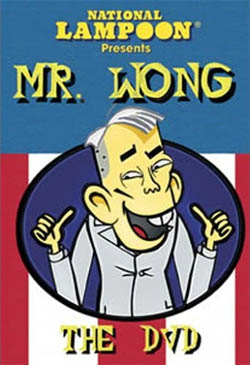 'Mr. Wong' series has become clearer with time. Back in 2000, when Icebox.com was championing this series as it's lead pony in the online entertainment revolution, it was hard to see through the hype – and the anger. As writers for 'South Park,' Brady and McCullouch were no strangers to controversy, but they surely couldn't have prepared for the protests that ensued after the launch of 'Urine Trouble, Part 1,' which features a stereotypical Chinese man-servant (voiced by McCulloch) being mercilessly teased by his aloof employer.
As the Flash revolution has unfolded, it's clear that 'Mr. Wong' was a hint of things to come. Sure, the web provides a place for shows too hot for TV, but it also proved a springboard for success. In 2004, 'Mr. Wong' finally found success offline in the form of a National Lampoon DVD feature. It's no 'Incredibles,' but the model was set and 'Mr. Wong' led the way.
7. Strong Bad Email #58 – 'Dragon'
A Homestar Runner cartoon
by Mike and Matt Chapman
While the rest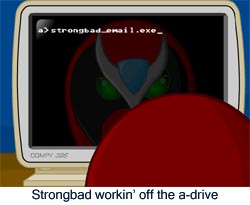 of the web struggles to make a viable business out of online advertising, Mike and Matt Chapman have famously gone in the other direction. Right from the start, their unique approach to humor at homestarrunner.com led them to an equally unique business plan – eschewing ads in favor of merchandise and DVD sales, which more than supports a small staff in their Decauter, Georgia office. It's an influential approach that will surely find a great many followers as the online entertainment segment broadens.
But that's only a portion of why The Brothers Chaps, as they've come to be known, are a revolutionary duo. Their bizarre brand of comedy and relentless stream of new material have turned them into an unassuming online force. There's not a single 'network note' between them and the audience, and this immediate interface generates weekly gems that are fresh, real and laugh-out-loud funny. 'Dragon,' the 58th Strong Bad Email, is exactly that. It wasn't the first 'classic' to come out of this series that's now well into triple digits, but it's probably the one most die-hard fans remember sending to their friends. It's loopy, highly-quotable and it spawned a long list of high-volume merchandise, including their top selling item, the Trogdor t-shirt.
AARON: What type of influence do you think 'Homestar Runner' and the Strong Bad Emails have had on the growing field of Flash animation?
MIKE: I think our longevity and consistency are 1 aspect. 7 years is a pretty long time for a web-only cartoon to be around. And the fact that we are such a small operation. Matt and I do all the animating, writing, music, illustrating for the cartoons. Our sister Karen handles the merchandise sales. Ryan Sterritt encodes and authors all the DVDs himself and Jonathan Howe programs and helps design all the games.
AARON: When did you release the first Strong Bad email?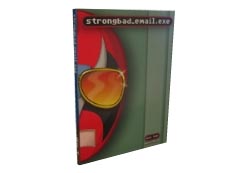 MIKE: I think it was August of 2001. In January of 2002 we started doing them (more or less) every week.
AARON: When did you first realize that the Strong Bad Emails had hit a nerve with the public?
MIKE: The Guitar email (July '02) and Techno (October '02) seemed to get sent around to people that previously hadn't heard of homestarrunner.com before. That was also when we realized that people liked to get made fun of by Strong Bad.
AARON: How has the animation industry changed since the introduction of Flash?
MIKE: The introduction of Flash allowed non-animators like ourselves to fake our way through making cartoons.
AARON: What are you working on now?
MIKE: Strong Bad email #157 and finishing up a DVD of some of our cartoons.
6. The End of the World
by Jason Windsor
'The End of the World' is by far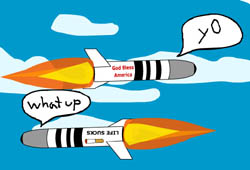 the sketchiest short I researched for the Flash Animation 10 – both in the artistic approach and the background detail. It's obviously drawn and (simply) animated by a novice, and finding information about Jason Windor's cult classic short is a tough chore. He didn't respond to emails, nor could I find more than one existing interview with this shadowy animator from upstate California. But his low-profile didn't stop him from turning his lighthearted look at the world's nuclear standoff into an animation career. He parlayed his signature style into a deal with Wieden+Kennedy to produce a series of TV spots for the NBA and Nike Sphere.
What it lacks in artistic merit, 'The End of the World' makes up for in superior comedic timing, and a unique voice over, presumably done by Jason himself. His influence is in both the anyone-can-do-this approach and his riotous take on the very bleak topic of global nuclear annihilation.
by Bob Cesca
The despair that continues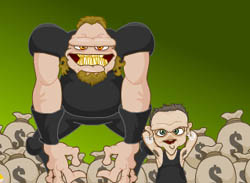 to grip the wilting music industry is no better encapsulated than in the fireworks resulting from Metallica's lawsuit against Napster in May of 2000. Bob Cesca was watching this all unfold from his Reading, Pennsylvania office, where, since 1998, he'd been posting his own animations and spoofs at campchaos.com. Cesca had found modest success, and in 1999, he'd even signed a deal with Honkworm, a hot online entertainment destination.
But things went into high-gear with Bob's response to the mayhem – a brief, profanity-laden Flash-animated spoof of Metallica's hasty saber rattling. 'Napster Bad!' spoke to the masses, and the masses soaked it up. Bob had unleashed his first major viral masterpiece, and the millions of viewers who watched his short had found a champion. This type of media influence, created by a miniscule team in an even smaller time-frame, was rare at the time, and Cesca was certainly a pioneer.
AARON: What type of influence do you think 'Napster Bad' had on the growing field of Flash animation?
BOB: In terms of technique, I don't think it was all that influential. At that time, I was still learning how to animate with Flash — and I'm still riding that curve today, six years later. But I was honored to hear that it inspired people to start animating with Flash. I've also heard that it influenced some animators to use Flash to make political or social statements. And I think it's on Wikipedia, so that means something, right?
AARON: When did you first release 'Napster Bad?'
BOB: I believe it was May 10, 2000. I think it was within a matter of days of Lars Ulrich showing up at the Napster offices with his black list of names.
AARON: When did you first realize 'Napster Bad' had hit a nerve with the public?
BOB: Probably about 24 hours later when our site went down from excessive traffic. When I heard that it totally disabled the ISP we were using for our shared server, that's when I figured something was happening. But I got the biggest kick out of an e-mail I received from someone who said they were standing in line at a convenience store in Scotland or something and the person in line ahead of them was quoting the cartoon to the clerk. And I still get a dozen or so e-mails per week about it. Six years later.
AARON: Any idea of how many times 'Napster Bad' has been seen on the web?
BOB: I can't even guess. The number at the time was 5,000,000 views in the first ten days. Odd, since our server — and we bounced to many servers and had several mirrors — kept crashing.
AARON: How has the animation industry changed since the introduction of Flash?

BOB: It's absolutely made animation more accessible to people who wouldn't otherwise have the means to animate their scripts and ideas. That's just the tip of the iceberg. It's made animation more affordable, but, on the down side, I believe it's also given the false impression to studios and networks that it can be done for super cheap with insanely fast production schedules.
AARON: What are you working on now?
BOB: Several things… First, we're producing a pilot for our first anime series called 'KUNG FU JIMMY CHOW'. We're producing several shows for Heavy.com, including 'The Superficial Friends' and 'Behind The Music That Sucks.' I'm also seeking investors for an animated movie I'm developing about the American Civil War. Other than that, I'm writing political articles for Arianna Huffington's HuffingtonPost.com website.
by Adam Phillips
Here's a compilation of Adam's Brackenwood series…

Adam Phillips,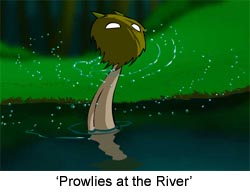 much like his friend Bernard Derriman, is a Disney Feature alumni, having spent years running the effects department at the Sydney-based studio. After leaving Disney in 2004, Adam trained his full attention on his Flash-animated 'Brackenwood' series, and the results have given the medium a much-needed boost. Proving that not only is Flash great software for those with elevated skills, but that it can be a training ground for new techniques, Adam's influence has just begun. For more on his burgeoning career as an independent animator, read his 3-part interview here at Cold Hard Flash.
AARON: What type of influence do you think 'Prowlies' had on the growing field of Flash animation?
ADAM: For myself, 'Prowlies' proved that I could push Flash to do things it wasn't meant to do… incorporating 3D, full frame-by-frame animation, floating camera, feature quality effects and so on. I get still get daily request for tutorials on water animation.
When I released 'Prowlies,' Tom Fulp's front page comment on Newgrounds was "The bar for Flash has been raised" which I think sums up how many people saw it.
AARON: When did you first release 'Prowlies?'
ADAM: I completed the movie in about 8 weeks and released it in September 2004.
AARON: When did you first realize 'Prowlies' had hit a nerve with the public?
ADAM: Soon after I released it on Newgrounds and my website, Will Stamper emailed me with a link to a Newgrounds article he'd written. Some of the things he said in that article really surprised me and I got the first real sense of how my stuff was being received (both in good and not-so-good ways). Although I knew Bitey's first movie was very well received, I had no idea up 'til that point that the next Brackenwood movie had been so greatly anticipated.
AARON: Any idea of how many times 'Prowlies' has been seen on the web?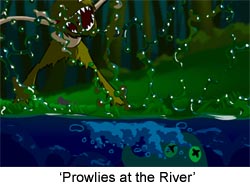 ADAM: From my own site it's had almost a million views, and on Newgrounds it's close to 1.5 million views.
AARON: How has the animation industry changed since the introduction of Flash?
ADAM: I can't really speak with much authority on the animation industry in general, because in my freelance work I elect to use Flash, rather than it being a requirement. In fact, several of my past jobs have called for traditional design, storyboards or animation (on paper and sent via international courier), but I've used digital processes such as Flash and Photoshop, delivered via FTP and then been paid through internet money transfer.
Since I bought my computer in 1999 and started with digital art, I have created very few pieces of traditional art (apart from my work at Disney). It's kinda sad I suppose.. I used to do these highly detailed pen and ink drawings, and dabbled for some years with pastels.. but hardly at all in the past 7 years.
As you know there are an increasing number of 2D studios converting to digital processes using Flash and Toon Boom these days. I think the industry will move even further in that direction as time goes by.. Perhaps someday, telling your kids that you once drew animation frame-by-frame on paper with pencils will be just like when your grandparents told you that they walked 10 miles barefoot in the snow to school each day.. "Yeah right, pull the other one Grandad."
AARON: What are you working on now?

ADAM: I'm currently motivated by fear (after a startling meeting with my accountant a few weeks ago) into reworking my website, including an overhaul of my merchandise machine. Wanna buy a shirt?
On the to-do list is a rework of 'the Yuyu' which will see it more as a standalone story, rather than a sequel. This is so that I can submit it to some film festivals and the audience won't be thinking "What's that black cloud thingy? Why is he running from it? And what is he anyway?"
Alongside the website, merchandise and any freelance work that I can snare, I'm working on designs and outlining the plot for the Brackenwood feature film. My wall is covered with key plot points written on little cards that I shuffle, delete or add whenever I have a spare moment.
3. Babysitting the Idiot, Part 1
Episode 1 of The Goddamn George Liquor Program
by John K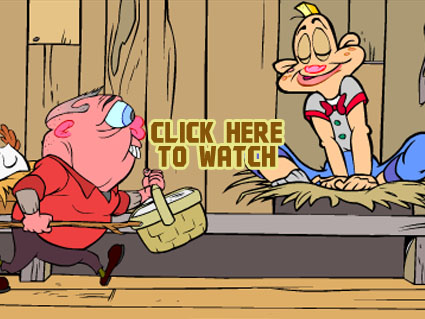 It was 1992, and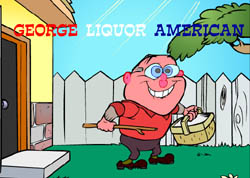 John Kricfalusi had hit a ceiling in TV. He'd created 'The Ren and Stimpy Show' which went on to become one of the most popular, inspired and controversial TV cartoons in history. But the executives at Nickelodeon couldn't stomach John K's humor, which they branded violent and gross. In the end, John's version of 'Ren and Stimpy' wasn't even on television all that long, but the impact the series made on the animation community and our culture will be evident for years to come.
A few years after Kricfalusi was unceremoniously fired from Nickelodeon, he got wind of the internet. Then, in 1996, his friend Annmarie Ashkar tipped him off on the software known as Flash, and soon after 'The Goddamn George Liquor Program' was born. George Liquor, the star of the web series, actually appeared first in 'The Ren and Stimpy Show.' His antics in the episode 'Man's Best Friend' were rumored to have been the straw that broke the camel's back at Nickelodeon. But George's triumphant return to the cartoon world would set in motion an online animation revolution.
To learn how the production unfolded, let's turn to John's own words, which he posted on his blog earlier this year:
Now at the time everyone thought I had lost my mind (as they do each time I find a new way to make them rich). They told me to drop this crazy notion of Internet cartoons and get back to TV. Even my own staff was mad at me.

So I spent my own money developing the techniques to make this program work for animation, put the first Internet cartoons up, called Macromedia and showed them what I was doing, worked with their programmers and suggested many improvements for the program. I also called all the magazines and Newspapers and marketed the whole deal myself. I got on the cover of Wired and many other magazines and the news spread like wildfire.

Soon, everyone and his dog started up their own Flash websites and copied what we were doing. Icebox, one of our followers, then saw another cartoon I had started called 'Weekend Pussy Hunt' and paid for part of it. I trained about 40 artists to use Flash with the techniques Annmarie and I developed and now they are all the top Flash people in TV.
Some of the artists John refers to are Eric Pringle (Foster's), Matt Danner (¡Mucha Lucha!), Tony Mora (¡Mucha Lucha!) and Gabe Swarr (Buzz on Maggie). In 1999, 'George Liquor' was awarded the one and only 'Outstanding Achievement in an Animated Interactive Production' award.
'The Goddamn George Liquor Program' had immense influence on the internet's nascent efforts into animation. As a reigning master of TV animation, his early exodus to the web was a beacon that scores of other animators soon followed. His use of interactivity within his cartoons has spawned many followers, most famously in cartoons on homestarrunner.com. Of course, the content of his shorts, often infused with colorful language or scatological images, were just a taste of what was to come on the world wide web.
The first Happy Tree Friends episode
by Kenn Navarro & Rhode Montijo
A violence disclaimer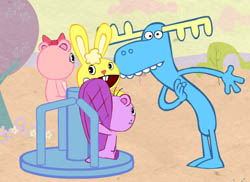 that once played in front of online 'Happy Tree Friends' episodes said the program was "Not for small children and big babies." It's this tone that permeates one of the web's first monstrous hits. The series was a bellwether of things to come (as is the case with many of the Flash Animation 10). It's filled with material some wouldn't consider suitable for broadcast TV and the episodes are short (around 2 minutes). And, in this case, it was a formula for massive success.
In a recent Boston Globe article, the number of monthly episode views is placed at 16 million. And with 5 DVD releases and over 750,000 units sold, you can bet the gang at Mondo Media, the producers of HTF, are 'happy' too. With merchandising, an MTV presence around the world, and an upcoming half-hour series on G4, 'Happy Tree Friends' is a case study for the internet incubator model.
Kenn Navarro and Rhode Montijo helped create the series at Mondo Media back in 1999. I'll never forget watching the very first episode, 'Spin Fun Knowing Ya,' and when that poor rabbit hit the jet engine, I knew we were in for a wild ride.
Kenn went into great detail about 'Happy Tree Friends' and the world's reaction to the series in a 2-part interview here on Cold Hard Flash. Below, he answers a few more questions for the Flash Animation 10.
AARON: What type of influence do you think 'Spin Fun Knowing Ya' had on the growing field of Flash animation?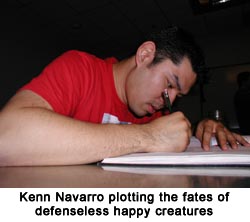 KENN: None! We never thought the show would have such an impact with the fans and the Flash community when we first started making the shorts. Heck, there wasn't even a Flash community when we first started doing Happy Tree Friends and the other Mondo Mini Shows. We really just saw an opportunity to get our ideas out with this great little tool that, at the time, not a lot of people were doing any sort of character animation with. Personally I'm just so happy to see that people have embraced Flash as another tool for animation and I can only hope that the program and techniques will evolve and get better as more and more people are doing different stuff with it.
AARON: When did 'Spin Fun Knowing Ya' first release?
KENN: The show was originally created in 1999 and went to air in the year 2000.
AARON: When did you first realize 'Spin Fun Knowing Ya' had hit a nerve with the public?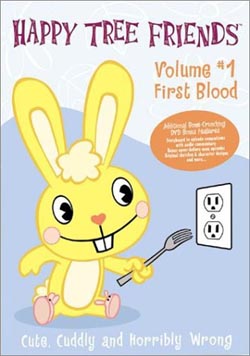 KENN: When we saw blood squirting out of that nerve. That's when we knew we've done something terribly, terribly wrong! Back when we were doing a whole bunch of animated Flash shows on the Internet, Happy Tree Friends was just one of the many titles we were putting out. After the first "season" we stopped production on the show and thought we would move on to our next project. However, people started writing in and leaving messages for us on the website, clamoring for more Happy Tree Friends. It wasn't really until we started releasing the DVDs did we fully realize how many fans were out there. Since it's all online, the show was able to transcend borders and physical restrictions so there are fans from everywhere around the world! The fans really love and embraced the show so we owe it all to them!
AARON: How has the animation industry changed since the introduction of Flash?
KENN: The biggest change is probably in the production cycle. What would have taken months and months to animate now takes weeks. When we first started doing the minute long episodes of Happy Tree Friends, we were pumping the shows out on a weekly basis, which was just unheard off back in the day. A shorter production cycle also means that it's more cost effective so more studios are starting to adopt Flash as a real viable production tool for commercials and TV shows.
On a design level, I think that there's been a re-emergence of the 1960′s UPA (United Productions of America) type of modern design that is in some way influenced by the increase of popularity and accessibility of Flash and its vector-based look.
AARON: What are you working on now?
KENN: If I'm not chopping zombies up on my X-box 360, I'm here at Mondo working to finish up the Happy Tree Friends half-hour TV show which will be airing on the G4 channel starting October 2nd. It's bigger, badder and has 32.469741% more blood than the previous shorts! We'll also be working on more shorts for the Happy Tree Friends website as well as the DVDs, cool toys and all sorts of other Happy Tree Friend stuff!
by Gregg & Evan Spiridellis
If you aren't a regular reader
of Cold Hard Flash, you probably wouldn't know that, by day, I work at JibJab Media. I only mention it as a prelude to my slathering of praise for 'This Land,' JibJab's immensely popular election parody from 2004. And just so we're crystal clear, I didn't work on 'This Land,' so it's not really patting myself on the back. Regardless, I think that once you read about the events that followed their July 9, 2004 release, you will have a hard time coming to any conclusion but this one – 'This Land' is perhaps THE most influential online short, animated or not.
After 5 years of online success, it was 2004 and the Spiridellis brothers had braved the 'dotbomb' era and moved the tribe from Brooklyn to California. In the summer of 2004 it was apparent that the showdown between John Kerry and George Bush would be a hard-fought battle – and their stances had split the country into two. Evan and Gregg had already parodied past, sitting and hopeful presidents to great success, and the two agreed to spend 8 weeks of their summer poking fun at the Bush and Kerry camps with equal fervor. Mind you, this was before the brothers were surrounded by a small team of artists. It was just the two of them – Gregg writing, and Evan designing and animating the entire piece.
Their marketing plan involved a 100K+ list of emails, and a server that could sustain the blow of 10 times that many, should they be so lucky. At the end of week one, they were already getting 1.5 million views a day, with no signs of slowing. As their server 'spontaneously combusted,' Evan and Gregg began interfacing with the media, who simply couldn't get enough. After interviews on all major news networks, a visit to the set with Jay Leno, a Today Show interview and countless press mentions, the Spiridellis brothers were still due one more accolade. After being awarded 'People of the Week' by Peter Jennings on ABC in July, they were subsequently named 2004′s 'People of the Year.' However, they didn't take the honor outright. Gregg and Evan had to share with Larry Page and Sergey Brin, the guys who started a little company called Google.
The influence of 'This Land' is clear – it broke the election down into a quick, easily-digestible laugh riot. With less than 3 years of distance from 9-11, and a gloveless brawl being waged for the Whitehouse, the short both galvanized the candidates and brought us all together for a much needed laugh.
AARON: What type of influence do you think 'This Land' had on the growing field of Flash animation?
EVAN: I think 'This Land' proved to people that Flash wasn't just a poor man's animation tool. Flash had the reputation of just being used for cheap, low quality production. 'This Land' proved that if you had something interesting to say, a clever way to say it, and decent art that the software is a BENEFIT to independent storytelling not a hindrance.
AARON: When did you first release 'This Land?'
EVAN: Friday, July 9, 2004 at about 1:00 in the afternoon.
AARON: When did you first realize 'This Land' had hit a nerve with the public?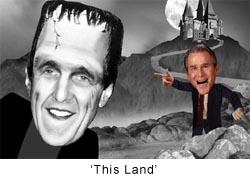 EVAN: By viewing the traffic on our site we knew we had a hit within the first 24 hours but I would say it wasn't until Monday evening that we realized we had tapped a nerve.
AARON: Any idea of how many times your short has been seen on the web?
EVAN: We stopped counting after the election but between July 9 and early November 'This Land' and it's follow up piece 'Good To Be in DC!' were viewed over 80 million times online. Some other interesting stats are that it was viewed on every continent, including Antarctica, and NASA even contacted us to send a copy to the American astronaut on the International Space Station! We also did a Nielsen search that year to see how many times JibJab was mentioned on television and the report came back that there were over 590 million impressions of JibJab on TV.
AARON: How has the entertainment world changed since the introduction of Flash?
EVAN: Flash is leading the charge of a digital revolution! It has given a lot of power to independent creators and the world of traditional media has had to take notice. For the first time ever, Flash has enabled artist to create broadcast quality work for a reasonable price. In the past you needed dozens of people and hundreds of thousands of dollars to bring an idea to fruition. Now with Flash and other software, animators are able to realize their ideas from the comfort of their own home or small studio. Add to that the fact that they can distribute it themselves and, PRESTO!, you've got a digital revolution!
AARON: What are you working on now?
EVAN: We're working on a whole host of projects from animation to live-action and everything in between! Regardless of the format all of our work is ultimately broadcast through the Flash Player so Flash continues to play a key role in all of our projects. We love collage animation and we will always continue to do it but we see a great opportunity to spread our wings an experiment with all kinds of visual storytelling. After all, it was a lot of experimentation that lead us to photo-collage dancing presidents!
filed under:
Interview
| Tags:
Adam Phillips
,
Bernard Derriman
,
Gabe Swarr
,
Happy Tree Friends
,
Icebox
,
JibJab
,
Joe Cartoon
,
John K
,
Matt Danner
,
Mondo Media
,
Newgrounds
,
Pringle
,
Tony Mora