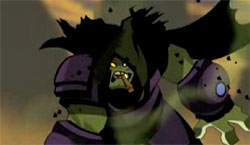 Akumi, the violent, sexually-explicit new series from Alan Smithee is on to episode 2. After a controversial first episode (scroll to comments) , this series is really kicking into gear. It's packed with action, excellent special effects and a great cliffhanger that will leave you anxious for the third installment, now slated for March.
The jiggling and wiggling of the various females got a bit tired by the end, and I wasn't terribly thrilled with the lead actresses' vocal performance, but the overall production values in this second installment (top-notch music and sound design) more than made up for any shortcomings.
Smithee is joined by Tyree Dillihay, David Johnson and Dustin Remmel who all elevated their games for this one. A beautiful and breathtaking production, fellas.