Akumi Beautiful and Violent
A few years back, Atom Films released 'Soybean,'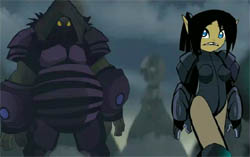 a Flash-animated sci-fi short by Alan Smithee. It's wall-to-wall action, beautifully animated and full of hot, voluptuous, scantily-clad women. Or maybe they're not women, but they sure do bounce like women.
Two years later, Smithee has released a new short called 'Akumi,' which bears many similarities to 'Soybean.' It's packed with gorgeous, fully-animated action, and a voluptuous, scantily clad woman. The only difference here is that 'Akumi' features graphic nudity and a violent rape scene that you probably don't want to watch at work.

Here's a quote lifted from the production company message boards:
I wanted to create an extremely sexual, violent and action-packed film. I didn't want it to hold back in any way with the extreme content and visuals. And yes, I wanted to shock people.
Well, it worked.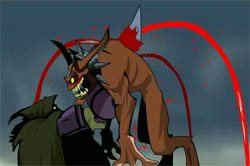 I went from mouth agape at the beauty of the animation, layout and designs (and that cool blood effect) to mouth agape at the level of sexual content included in the second half.
The goal is to find funding for 'Akumi,' and turn it into a full-time project, complete with a DVD release. Thinking ahead, there's already been mention of a 'censored version' of the project.
Dustin Remmel wrote the outline script and David Johnson added sound effects.